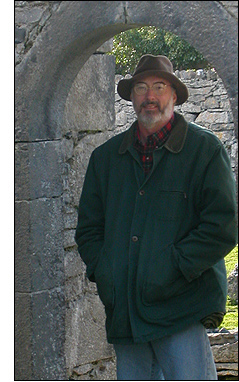 interview- September 2010
1.As a child, what did you want to do when you grew up?
When I was a child, that was a very difficult question for me because I didn't have any idea what I wanted to be when I grew up. Perhaps my lack of any clear vision in that area is why, as an adult, I've tried so many things, including service in the military, police officer, federal agent with Naval Intelligence, prosecutor, and defense attorney. For a little while I even worked as a private detective, and now, of course, I'm a writer.


2.What is your book Dragons from the Sea about?
Dragons from the Sea is the second book in a series called The Strongbow Saga, which is about a young Dane in the mid 9th century named Halfdan
who, although he was born a slave, becomes a Viking warrior and embarks on a great quest to avenge a treacherous murder. In Dragons from the Sea,
Halfdan joins a Viking expedition that invades the western kingdom of the Franks, the part of Europe that today makes up most of France. Both Dragons and book 3 of the series, The Road to Vengeance, are set within that campaign, which actually happened, although the character of Halfdan, and his role in the campaign, are fiction.
It is a bit ironic that you should ask about that book, as the publisher took it out of print earlier this year. However, I will be republishing a new edition of it within the next month or so.


3.What was the first book you ever wrote?
Like many authors, the first book I wrote never got published--for that matter, the second and third books I wrote didn't get published, either. My first book was a mystery/thriller set in Arizona, and drew heavily on my experiences as an organized crime prosecutor in that state.


4.Who is your favorite author and what is it that really strikes you about their work?
J.R.R. Tolkien is my favorite author, because The Lord of the Rings has been my favorite book ever since I first read it back when I was in high school. One of the things I most love about it--a characteristic I've tried to emulate in my own books--is the way Tolkien created such a vivid world in which he set his story, so that the world seemed real, and how his characters are so vividly created they come alive for the reader, and you care deeply about what happens to them.


5.What books have most influenced your life?
Three of the books that have most influenced my life and ambitions as a writer are The Lord of the Rings by Tolkien, Shogun by James Clavell, and Watership Down by Richard Adams. Although the stories in each are very different, each book has the qualities I love to experience when I'm reading: the world and the characters become real to me, and I'm totally swept into the story.


6.What advice would you give to writers just starting out?
Above all, don't get discouraged, and practice, practice, practice! It takes time and work, and usually a lot of rejection and setbacks, to become a good writer and a good storyteller.


7.Tell us about your upcoming projects?
I'm currently in the middle of writing a Viking era novel set in Ireland around the year 840 C.E. The title is The Beast of Dublin. In some ways it's a little bit of a prequel to The Strongbow Saga because a number of the characters in it also play major roles in the series, which takes place about five years later. As soon as I finish that book, I'll turn to writing the fourth book in the Strongbow Saga--a task I was prevented from doing for several years because my former publisher had the rights to the rest of the series tied up until recently.


8.Thank You! What else would you like to say or have me post?
Good luck with your new website!